CELEBRATING SUCCESS AT GSC - HARRY BLACKHALL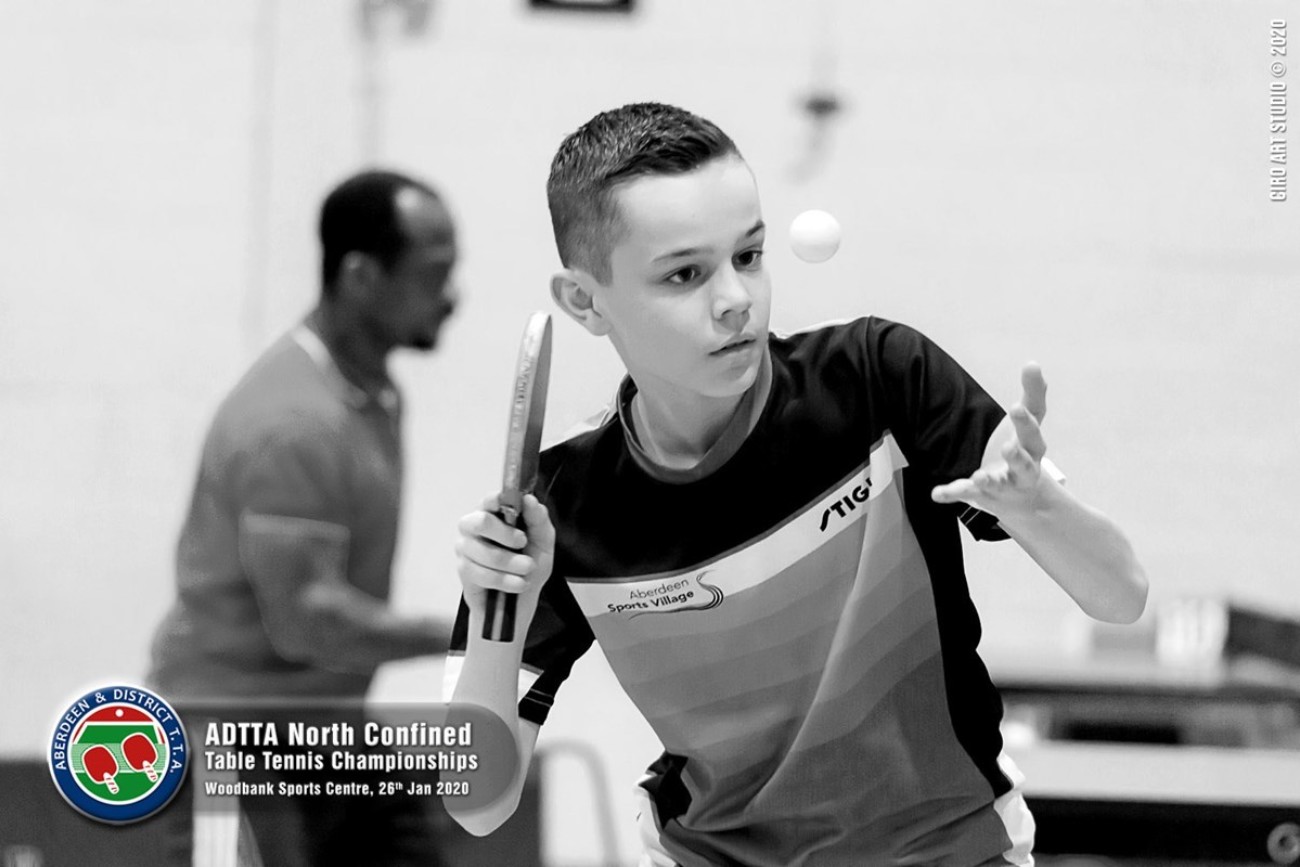 Proving it's not how big you are it's how big you play - young table tennis prodigy and local lad, Harry Blackhall, picked up a bat for the first time right here at Garioch Sports Centre in the Spring of 2017.
Harry started off his table tennis run of success attending classes at GSC with some friends. Recognising Harry's emerging talent, former player and coach, David Low, approached Harry's family and asked if Harry was able to attend an elite Table Tennis Academy based at Aberdeen Sports Village (ASV).
Harry continued to develop his talent when an extra session a week at ASV quickly evolved into multiple sessions over several days. Harry now regularly trains or plays five days a week.
In September 2017, he entered his first competition - an Open tournament in Aberdeen. Unsuccessful but undeterred, his next tournament came just two months later in Edinburgh and saw Harry winning a number of matches against similar ability players giving Harry the boost that he needed.
Participating in another couple of tournaments before the end of the season, Harry was rewarded with his first taste of success - a runners-up place in the North Primary Schools in May 2018.
He continued to train hard throughout the summer of 2018 and started the 2018/19 season well coming runner up in the U13 Boys at the Glasgow Open in November.
Around the same time, the call came for Harry to train with the prestigious Table Tennis Scotland National Development Squad in Glasgow. Harry began spending weekends and school holidays in Drumchapel training with the national team made up of the best 13-18 years olds that the country has to offer.
It was evident that the extra training was paying off when Harry went on to enjoy several successes throughout the season:
Edinburgh Open - U13 Boys Winner (January 2019)
North Confined - U13 Boys Runner Up (January 2019)
North Confined - Open Event Runner Up (January 2019)
Scottish National Championships - U13 Semi Finalist (March 2019)
Scottish Inter League - U13 Team winners (March 2019)

Harry started playing in the Aberdeen & District Table Tennis Association (ADTTA) local league along with a couple of other ASV youngsters exposing him to a variety of abilities and styles of play. Flying high, Harry ended the year with a win rate of over 80%.
He also received the ASV Coaches Award at the end of the 2018/19 season for his efforts throughout the season.
The 2019/20 season saw him jump up to the U15 category (groupings tend to be U13, U15 and U18). Harry and his family knew it would be tough to continue the good form of the previous season but he surprised himself in the first tournament of the year - North Open in September - by winning the U15 boys title. He followed this up with a semi-final spot at the Perth Grand Prix U15 in October.
Harry was once again selected for the Scotland Development Squad with training now taking place at the National Sports Centre at Inverclyde over 5 weekends through the winter. Inverurie Youth Sports Foundation kindly provided funding for his national training this year.
In the local ADTTA league, Harry and two team mates were parachuted into Division 1 playing the best players (mostly adults) in the North East. Initially a massive learning curve but despite some defeats, they have managed to keep it competitive - good grounding for future playing against the best players.
The ASV coaches also entered Harry and some teammates into the Scottish National League for the first time. This involved matches in Perth and Dundee against (again mostly adult) teams from across Scotland - they competed well and finished 3rdin Division 5 narrowly missing out on promotion. Harry won 12 out of his 14 individual matches.
At this stage of the season Harry was ranked number 4 at U15.
He's gone on to enjoy further successes mid-season:
January 2020 – Runner Up, Open Tier 2 Banded Event, Edinburgh
January 2020 – Runner Up U15 and Runner Up Open Doubles, North Confined, Aberdeen and Semi Finalist Open Tier 1 event (top 12 players in North East)
Notwithstanding all of Harry's successes to date, his target at the beginning of 2020 was to try and secure qualification to represent Scotland at the Schools event later in the year.
The Scottish qualifiers took place in February and he secured a top 4 place in the U14 category (the age groupings are slightly different for the school's tournaments). This means that Harry is selected to play in the British Schools Championships in Cardiff in June – his first time playing for Scotland. This is a mixture of doubles and singles matches as a team of 4.
It has been a real journey over the last three years since his first sessions at Garioch Sports Centre and we're incredibly proud of him. harry regularly hold his own against players with considerably more experience than him and, to a degree, he has had to play catch up. But it's great that this hasn't stopped him winning regularly and climbing the ladder to success.
Harry has made some great friends through table tennis and it's refreshing to see that their competitiveness on the table doesn't stop them from enjoying a friendship away from the table!
We wish you all the best for June, Harry, and we will continue to follow your journey from GSC with pride.
We have a coached table tennis session on Sundays for primary school-aged children from 3-5pm! Check out GSCkids for information on how to book.