Garioch Sports Centre Launches Just Giving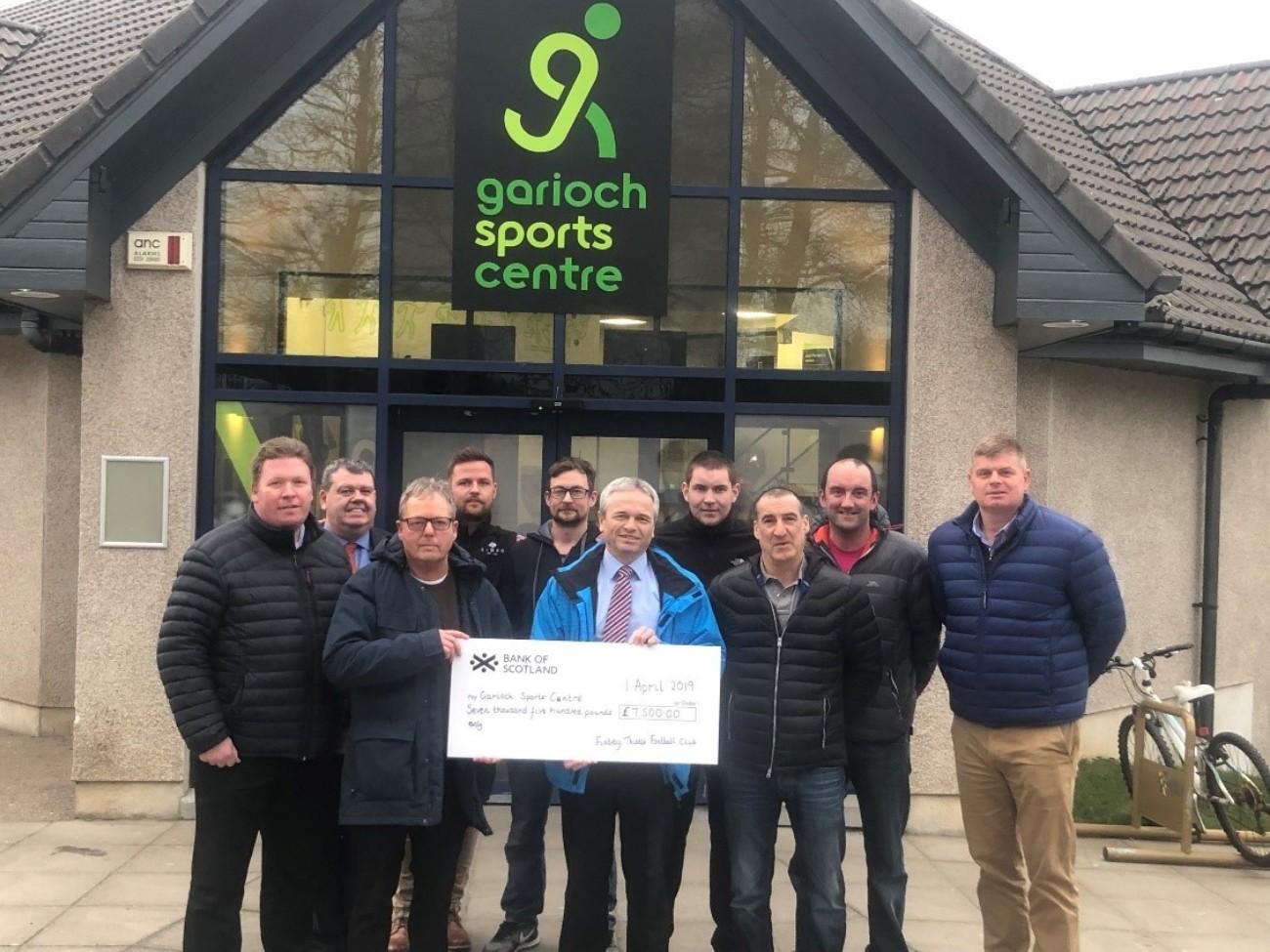 *Pictured are Garioch Sports Centre Trustees receiving a cheque for £7,500 from Fintray Thistle AFC towards our project to invest into our community facilities.

Garioch Sports Centre's fundraising campaign is up and running as we submit our planning application to Aberdeenshire Council, in partnership with Inverurie Community Council, to extend our popular community facilities.
Our ambition is to deliver;
A unique childcare-specific Early Learning Centre for the rural town of Inverurie
The development of Aberdeenshire's first indoor three-court tennis facility;
New gym & fitness studios and;
New entrance and reception area with an adjoining café
Over the past two years we have been working hard to bring tennis back to Inverurie for the first time in 20 years. We have been working closely with Tennis Scotland, sportscotland and the LTA to deliver the first indoor tennis facility here in Aberdeenshire and have been successful in our initial first stage application to the Transforming Scottish Indoor Tennis (TSIT) fund. We are now working on our second stage application with the funding partners for £1million of funding (£875k grant/£125k loan) towards the project.
These exciting plans will cost in the region of £3 – £5million. The project is designed so that it can be built in three phases as the desired areas of capital are achieved.
Phase One – Early Learning childcare facility
Phase Two – Three- court indoor tennis facility, new reception area &café.
Phase Three - gym facility & fitness studios
And it's not just about the facilities, it's also about the people who will bring it to life. Through our involvement with Inverurie Youth Sports Foundation (IYSF) and the Judy Murray Foundation we are already working with clubs in the local area to grow the sport. Our focus is on increasing participation levels and upskilling the coaches and volunteers who can inspire more people to play tennis.
We now must undertake a large amount of fundraising to achieve our capital funding target but we are confident that we will achieve our goal with your help. The support of our existing members and the wider public is now imperative as we launch our Just Giving fundraising page and an exciting programme of events including the Tennis Ball in 2020.
We have already got the ball rolling with a fantastic contribution of £7,500 from Fintray Thistle AFC. Fintray Thistle were a local amateur football team based at Garioch Sports until they folded in 2017. This donation is money they raised through community events for the team and they have now donated it back to the community for our exciting project. Thank you.
This is a fantastic opportunity to deliver the sports centre this community deserves. Please support our project and let's make this dream a reality for the Garioch!
https://www.justgiving.com/gariochsports